Homestays in Coorg
For those of you looking for a more relaxed visit to Coorg there are many homestays in Coorg district run by traditional Coorg families that are more about coffee plantation stays with a cultural touch.
Coorg, officially known as Kodagu district in Karnataka, is nestled in the eastern part of the Western Ghats. It is known for its misty weather, coffee, pork, its indigenous Kodava culture, the Brahmagiri, Talakaveri and Pushpagiri Wildlife Sanctuaries, and the Nagarhole National Park (Rajiv Gandhi National Park). The region is popular all year round with temperate winters, cool summers and gorgeously green monsoons. If that calls to the traveller spirit in you, here are a few places you could consider staying at.
Perfect Homestays in Coorg
Experience the thrill of staying amidst the misty hills, gushing rivers, and the verdant coffee plantations at Coorg's budget stay, offering you with basic comforts and amenities. A pathway lined with colourful flowers and towering trees welcomes you to Coorg.
Generally the rooms are spacious and conveniently done in most of the homestays, and appointed with the basic needs of a modern day traveller. The huge porches and balconies open to the enchanting views of the hilly landscapes around gives perfect relaxing holiday. Homestays are perfect place to sit with a cup of coffee and huddle with your family.
List of Best Homestays in Coorg
Kodava Host
The Kodava hosts provide delectable and homely fare, which includes the traditional delicacies of Coorg. Savour the pork and chicken specialties of the Kodavas along with homemade wine, as you sit around a bonfire and enjoy the mountain winds.
Activities
There are several fun and adventure activities that the homestay hosts can arrange for you. Enjoy the wildlife of Coorg, coffee estate safaris, nature walks and tours to nearby ethnic villages. Enjoy the scenic grandeur of the Abby or Irppu falls, the mesmeric views of the Western Ghats from the Raja Seat or experience spiritual tranquility in the Buddhist Golden Temple of Bylakuppe.
Nothing gives more pleasure than watching the soaring cloud-capped mountains and listening to the calming rhythm of the stream as you sit idly in the lush cradle of nature. Enjoy a tranquil and idyllic vacation at this quaint homestays in Coorg.
If you are looking more of luxury and resort ambience, then we have curated best resorts in Coorg for your perfect holiday destination.
Coorg Beauty In The Heart Of Western Ghats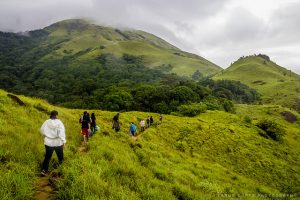 Coorg considered as one of the most beautiful destinations near Bangalore. Also known as, Kodagu region, this destination is a beautiful blend of the scenic attraction mixed with rich heritage. It has preserved its natural beauty and known for eco-friendly lifestyle of locals. The presence of gorgeous tea gardens, waterfalls, viewpoints, heritage spots and forests make Coorg tourism worth a trip.
Coorg is a popular destination among the travellers from all around the world who seek natural beauty and scenic greenery. There are a number of wonderful attractions located in plain sight as well as around the rugged terrains in midst of evergreen forests. Coorg trip is perfect for nature lovers, photographers, trekkers, cycling enthusiasts as well as those who just wish to laze around and find a break from monotonous city life.
Kodagu District is 8 hours away from Bangalore and 4 hours from Mysore. This makes it a perfect place to spend a weekend. The area bordered by Kasargod and Kannur districts, Kerala as many travellers halt here before continuing their journey to the neighbouring state. Coorg tourist spots divided in three main parts, Madikeri, Virajpet and Somvarpet. These three locations also have some of the best Coorg homestay, resorts and hotels where visitors can spend their vacation around coffee and spice plantations.
Coorg hill station is one of the oldest settlements in India where Kodavas were the original inhabitants. The community known for their valiant nature and their stories of war have been a part of local folklores until date.
Coorg Tourism: A Quick View of the state
State
Karnataka
Official Language
Kannada
Dial Code
08272
Population
45 Lakhs (as of 2018)
Currency
Indian Rupee (INR)
Time Zone
GMT+05:30 (IST)
Area
205 square km
Best Places To Visit In Coorg
Coorg bedecked with beautiful jungle trails, waterfalls, trekking destinations, coffee plantations and temples. Most of the Coorg packages offer sightseeing trips around the valley depending on the number of days in hand. Local homestays and travel companies also organize private and group tours.
Some of the places worth visiting in Coorg are –

Abbey Falls
Abbey Falls is a gorgeous, ever flowing, gushing stream of water falling from a height and creating a serene atmosphere. The waterfall offers a breath-taking view but at the same time, it also sooths the mood by sprinkling water droplets on the faces of the people standing close. The tranquil setting makes Abbey falls counted among the best places to visit in Coorg.

Dubare Elephant Camp
Dubare Elephant Camp is one of the most interesting places to see in Coorg. This elephant orphanage has been providing sanctuary to these gentle giants for a long time. The elephant camps offer activities like elephant bathing and allow guests to try by themselves. There are a number of stay options around this destination from where travellers can observe the life of these animals up close.

Bylakuppe
Bylakuppe is among the most unusual places to visit near Coorg. This part of Kodagu region has been home to the Tibetan refugees who have been residing here for ages. Golden Temple or Namdroling Monastery is the most popular spot to visit here. The traditional Tibetan architecture and paintings are a delight to observe.

Raja's Seat
Raja's Seat is located in Madikeri and is close to most of the best places to stay in Coorg. Raja's seat is one of the most scenic spots in Coorg that offers an uninterrupted view of the Western Ghats and the surrounding fields. During the monsoon and post monsoon season, one can experience the feel of walking upon the clouds. Raja's seat also surrounded by a beautiful garden that creates a very photogenic setting.

Iruppu Falls
Iruppu Waterfalls is a very beautiful and serene destination where the nature creates magic around this falling cascade. The romantic atmosphere of this spot has made it a mandatory addition of every Coorg honeymoon packages. Iruppu Falls is located amidst a peaceful patch of forest where the sound of the gushing water creates an exquisite setting. Watching River Lakshmana Tirtha taking a 60 feet plunge is a treat to experience.

Brahamagiri Peak
Travellers who are keen on exploring the beautiful natural trails of Coorg will love to visit Brahamagiri Peak. This is a popular trekking and camping spot that goes all the way from a dense forest rich with unique plantations and flowers. The chirping of birds ignites curiosity and the view of sunrise from the top is beautiful.

Nagarhole National Park
Nagarhole National Park is one of the most amazing places near Coorg that offer a chance to venture into the jungle life from close. Nagarhole is the home of the mighty tigers, elephants, bears, peacocks, flying squirrel and many different species of animals and birds. A number of places to stay in Coorg are located around the national park that includes some of the popular resorts and campsites.

Chettali
Culture enthusiasts and nature lovers would enjoy their time at Chettali. As one of the offbeat Coorg attractions located near Madikeri, Chettali blessed with limitless greenery. Many pilgrims come here to pay their respects at Cherala Bhagwati Temple, which is also must visit.

Mandalpatti Viewpoint
Mandalpatti Viewpoint is a signature destination among the travellers who want to capture natural Coorg photos. This viewpoint offers a wonderful view of Western Ghats. Many wildlife lovers come here with their binoculars and cameras to click these mysterious residents living in their natural setting without interrupting their peace. Mandalpatti Viewpoint is best to be visited post monsoon when many shades of green come alive in different parts of the valley.
Top Things To Do In Coorg
Apart from sightseeing, Coorg offers a number of activities. Some of them are –

River Rafting
Coorg is one of the most popular rafting spots in Karnataka. The rapids are exciting and the route passes through a lush green jungle that makes the entire experience way better. River Rafting in Coorg generally conducted in River Barapole, which offers appropriate conditions that make rafting experience thrilling.

Camping
Nature lovers would find the best experience of pure bliss of nature while camping in the middle of a jungle or on an inaccessible hill. Camping is a popular activity in Coorg and many different locations around Kodagu district have used for this purpose. Travellers can also enjoy camping in coffee plantations and enjoy true life in the mountains.

Trekking
Since hills and various peaks of Western Ghats surround Coorg, the region has become famous as a trekking destination. Various trails offer a delightful traverse into the nature. These hike routes is fill with beautiful flora and fauna. The best part of trekking n Coorg is camping on the top and enjoying the beautiful sunrise in the morning.

Yoga Retreat
The blissful vibes of Coorg plays a perfect setting for Yoga and Meditation. Many resorts and home stays offer sessions on these activities so that their guests rejuvenate during the vacation. Calm breeze elevates the serene vibes and make the atmosphere rich with positive aura.
Where To Stay In Coorg
The number of Coorg stay options is unlimited and depends if the individual wants to find a high-end luxury resort or one of the beautiful home stays. One can choose an accommodation as per the budget and the number of days in hand.
High-end travellers can choose from the best resorts in Coorg that includes Club Mahindra, The Orange Country, The Tamara among the few. These resorts are perfect for couples who seek a break from the city life and rejuvenate their soul.
Travellers can also choose from many home stay in Coorg that offer a local experience in midst of gorgeous coffee plantations and spice gardens. Some of the best homestay in Coorg are located around Madikere.
Travellers who want to experience a life close to nature can opt for different Coorg jungle camp located near Dubare Elephant sanctuary and various national parks. There are several Cottages in Coorg that offer seclusion, privacy and a personalized travel experience amidst serene natural vibes.
Best Time To Visit Coorg
Coorg is an evergreen destination; tourists can visit all year long. During summers, Coorg weather is much calmer than Bangalore and rest of the cities in the plains. This proves to be an ideal reason to explore this part of Karnataka and find a break from scorching heat.
Coorg region experiences summers between late April and early June. During this, time period, Coorg temperature remains between 18 to 22 degrees in general which makes travel experience pleasant.
In recent years Monsoons are not a recommended time to visit Coorg because the chances of landslide and floods are very high. It is best to avoid planning a trip between late June and early September. But there are other places in Coorg where you can enjoy Monsoon with adventure activities. These regions gets low rain fall compared to other regions.
The second half of September and October are the right time to explore best places in Coorg as the whole valley blessed with post monsoon greenery, which makes Coorg images look very beautiful. These are also the perfect months to plan trekking in Coorg, as the weather is less tiring and their less chances of rain that may spoil the journey and camping experience.
How To Reach Coorg
Being a popular tourist destination, Kurg hill station, it main taluk, Madikeri is connected with all parts of Karnataka, Kerala and a few destinations in Andhra Pradesh. Apart from this, Coorg, India is also a stopover for travellers and backpackers planning to travel further to Wayanad, Chikmagalur, Kannur, and Kasargod. Coorg destinations do not have a railhead or an airport so the best way to arrive and depart here is by road journey. Coorg is one of the most popular long drive destinations in India and the scenic views are worth it.

By Air
Kempagowda International Airport in Bangalore is the nearest international airport from Coorg. Kempagowda International Airport is one of the busiest airports in India with regular flights from all around the world arriving and departing on a regular basis. One can find regular buses going to Coorg tourist place, which save travel time. Private taxis are available from airport while many Coorg resorts also offer pickup and drop facility.
Mysore Airport connected with domestic flights. Many travellers prefer starting their journey from here as the road travel is shorter. Since the airport has very limited connectivity with only Bangalore, Chennai and Kochi having direct flights. It does not make a lot of sense to plan a flight journey especially when a fully-fledged airport in Bangalore is only 2 hours away.

By Rail
Nearest railway stations to Coorg is in Mysore and Bangalore. Both stations connected with major parts of India with regular trains commuting from Delhi, Mumbai, Chennai, Trivandrum, Pune, Patna, and Kolkata among the few.
The connectivity between Bangalore and other major railway stations of India is more frequent. Super-fast trains like Shatabdi, Rajdhani and Duronto Express are available from different parts of the country. These trains have less number of stops compared to general express trains.
Mysore and Bangalore connected via a fully-fledged network of trains departing at regular hours. Most trains leave Bangalore city junction and take almost two to three hours to arrive at the destination. From Mysore, travellers can continue their further journey to places in Coorg by bus or private taxi.

By Bus
Coorg, connected to various parts of Karnataka, Kerala and Andhra Pradesh by an efficient bus network. A number of private bus operators also provide commute options for Coorg sightseeing in air-conditioned coaches. KSRTC Buses are frequently available from Bangalore and Mysore. There are air-conditioned as well as regular deluxe buses depending on the budget. Karnataka state transport also provides Coorg tour packages that include pickup and drop in Bangalore/Mysore along with stay in hotels and sightseeing.

By Road
It is easy to travel to various Coorg points of interest from different parts of India by road. Coorg, connected via a well-laid network of roads that connect all parts of country. It is easy to self-drive from cities like Delhi, Mumbai and Bangalore and travel to Madikere without any issues. Travellers are advice to download Coorg tourist places map for a fast and safe commute.
Internal Transport In Coorg
The ideal way to explore Coorg's important places to see is by hiring a personal vehicle. Private cabs and taxis are available in Madikeri and other destinations while the resort and homestay managements also arrange local sightseeing trips. Local auto rickshaw are also available for local Coorg attractions but for destinations like Nagarhole, a car or a 4×4 will make the journey better and faster.