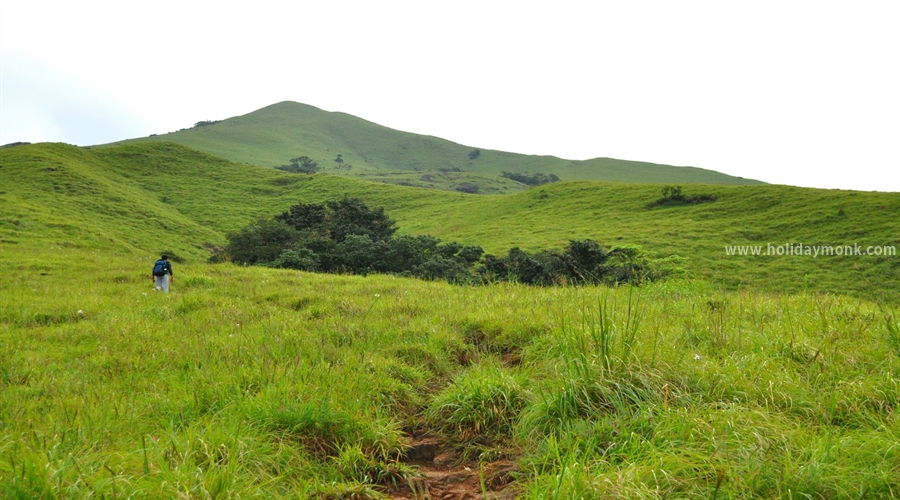 Pushpagiri / Kumara Parvatha
Pushpagiri or Kumara Parvatha, at 1,712 metres (5,617 ft), is the highest peak in Pushpagiri Wildlife Sanctuary in the Western Ghats of Karnataka. It is located in the Somwarpet Taluk, 20 kilometres (12 mi) from Somwarpet in the northern part of Kodagu district on the border between Dakshina Kannada, Sakleshpur and Kodagu districts. It is 6th highest peak of Karnataka.
Kumara Parvatha is popular destination for the people who are interested in exploring and trekking. Trekkers especially from Mysore and Bangalore visit this place for trekking. As of now, there are no facilities or amenities to get there. The trekkers will have to take with them food and water that will be sufficient for their entire trekking and they will have to get the help of the guides (difficult to find) who are thoroughly familiar with the place.
Although from distance the mountain looks as if one single peak but in reality, it has three peaks called 'Shesha Parvatha', 'Siddha Parvatha' and 'Kumara Parvatha'. The Shesha Parvatha faces to the south and looks like a serpent with seven hoods. The Siddha Parvatha, another part of the mountain and it is inaccessible. It is believed that Shri Vishnuthirthacharya is performing penance here even now.
One will have to cross the Shesha Parvatha, to reach the Kumara Parvatha. The Trekking at Kumara Parvatha can be done in two stages:
1st Stage: The starting point for trekking is Kukke Subrahmanya village and Bhattara Mane (House of Bhat family) is the ending point for the trekking. The trekking at this stage of Kumara Parvatha goes through a densely covered forest and this stretch is infested by leeches and snakes. This is the stopover point for the trek and is also used for the night stay usually during the return journey as the trek can not be completed in a single day due to its toughness and distance.
2nd Stage: From Bhattara Mane the route is little flatter for about 1.5 km and consists of going over small hills. The trekkers need to register with a forest office check post at this stage. There are two observations platforms between the Bhattara mane and the Mantapa. The rise from here is slow and the mountain face is covered with thick green grass. This stage concludes near the top of the mountain which is covered with thick forest.
The view from the top of Kumara Parvatha is very beautiful. The forests with their myriad trees and the agriculture fields of Dakshina Kannada smiling with magnificence of tender crop in the west, the estates of Kodagu in the south east, the plains of Mysore clad in green in the north-east and Western Ghats standing up right like the soldiers on guard provide a feast for the sore eyes.