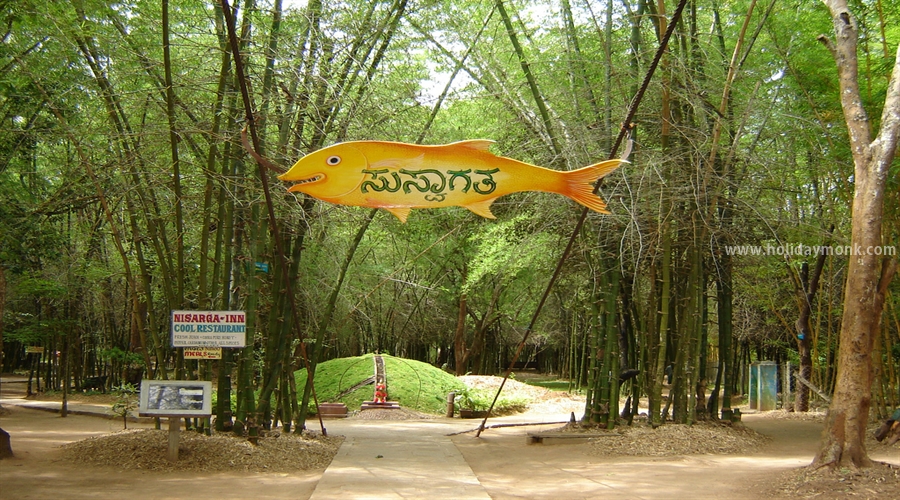 Kaveri Nisargadhama
Nisargadhama is a series of small and large islands on the Cauvery river near to Kushalnagar town in Coorg district of Karnataka. There are many shallow portions of the river through which one can just walk through. Other activities here include elephant rides and boating. Its an excellent place to spend an evening. This island has an area of around 25 acres most part filled by Bamboo and valuable trees. The Forest has a small reserved area for Deer's, Peacocks, Monkey's, and Elephants. Hotels, Restaurants and Shopping Stores active all time in the year with accommodations including lodges, resorts are located in the entrance of Kaveri Nisargadhama. It is the pleasant place to relax from work pressure.
This island has attractions including Boating, Elephant Rides, Swimming in selected places in Kaveri River in summer season (Prohibited in Monsoon), Hanging Bridge is the famous attraction here which connects to the island, Bamboo house, and rare birds.
This is the place for wide forest who looking for relax within natural beauty and there are many gaming facilities arranged for kids, really worth to visit this place.
In Kaveri Nisargadhama:
Elephant Safari
Playground for Kids
Animals (Monkey, Elephants, Peacock, Birds and Deer)
Hanging Bridge
Boating
Bamboo House
Walking within Bamboo trees
Swimming in the Kaveri River (Prohibited in rainy season)
Kaveri Nisargadhama also has a forest department run guest house and treetop bamboo cottages. The Kaveri Nisargadhama resort has 10-15 cottages and 5 bamboo cottages.
Distance from Kaveri Nisargadhama
Kushalanagar: 2 km
Madikeri: 30 km
Mysore: 70 km